Galápagos is a great experience but also an expensive one. If you start orientating, you soon discover the prices of cruises start around 1000 USD for a 8 day tour. Not a real budget option for many people. And because most people think that a cruise is the only option to "do" the Galapagos, they skip it entirely. But… you CAN do it on your own, there are budget accomodations, there are boats between the islands, and without doing the more-day-tours you cán see a lot. Because most people don't know that we wrote this article.
We had a lot of discussions on the thorntree discusion forum, people thought we had the opinion that doing it "our" way was better. But, we do NOT want to say that, we don't want to say that doing a tour is a waste of your money. But … not all people want or can afford these tours. We enjoyed our way very much, very relaxed and we saw a lot. But ofcourse, by cruise you get to places you can not go on your own. But on the other hand, we've been to places where the cruise-people don't go. So, maybe the best way is, to do both ways, by cruise AND on your own.
We booked a ticket to the Galápagos and did the Galápagos on our own. We stayed 17 days and spent 67 USD per day per person, everything included (food, lodging, tours, diving). So in total we spend about 1150 per person for 17 nights! Still not really a budget tour, but a lot cheaper then a full-tour. We went to the 3 big islands, starting on San Christóbal, after that Santa Cruz and last Isabela and from there we did some day-tours and diving. And we saw alomost all animals available. This article describes how you can do the Galápagos on your own.
References
We used some articles from on the Thorntree, LP South America (not much of use) and the Footprint Ecuador and Galápagos. We also bought the book Galápagos a Natural History Guide from Pierre Constant.  A good book with details about the geology and origin of the Galápagos, history of human involvement, animals description, islands description. We liked the book because it also describes the problems the Galápagos is facing. Another book  is Galápagos: a National History Guide from Michael H Jackson.  This book describes better the flora and fauna of the Galápagos but we found the book of Pierre Constant sufficient describing the flora and fauna. If you want to look for a cruise, the Footprint of Ecuador and the Galápagos has a long list with boats and their websites.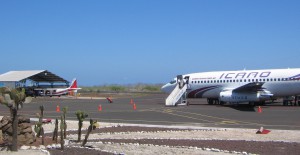 Getting to the Galápagos
Guayaguil to San Christóbal is the cheapest option.  We flew with Icaro which had an great deal, only 180 USD. We booked with an agency across the street of the Galasam tour office. I think you can also book at the airport directly. At the airport they accept creditcards but no travel cheques.
Money
There is an ATM in Puerto Ayora, but it often fails. Friends from us could get money with their VISA inside the bank. There is an ATM on San Cristóbal, but we did not see any foreign signs like Cirrus, Visa, Mastercard etc. So best is to bring cash and/or TravellerCheques. The tour agents should not ask commission, but ours asked 2 percent.
Costs
Here is what it all costed us (per person, in US dollars):
| | |
| --- | --- |
| General |   |
| Flight Guayaquil – San Cristóbal | 180 |
| Parque entrance | 100 |
| Transport between islands | 120 |
|   |   |
| San Cristóbal |   |
| Diving Kicker Rock / Leon Dormido | 100 |
| Highland bike trip | 15 |
|   |   |
| Santa Cruz |   |
| Tours (Seymore & Bartolome) | 140 |
| Highland tour Santa Cruz | 4 |
| Diving Gordon Rocks | 125 |
|   |   |
| Isabela |   |
| Highland tour (Sierra Negra) | 20 |
| Las Tintoreras | 10 |
| Los Tunels | 25 |
|   |   |
| Accomodation, food, drinks, etc | 300 |
|   |   |
| Total costs per person, 17 nights | 1139 |
Entrance fee Galápagos
Upon arrival you have to pay the park entrance, 100 USD cash. If you are doing voluntary work on the Galápagos you don't have to pay the entrance fee.
Internet
All islands we visited (Isabela, Santa Cruz, San Cristóbal) have internet. We only used it on Santa Cruz. Costs 2$ per hour, or 5$ or 6 hours. So not even expesive if you use the 6 hour option, speed was good, machines as well.
Tourist Information
Santa Cruz and San Cristóbal both have good Tourist information offices where they provide free maps and information.
SAN CRISTOBAL (Puerto Baqerizo Moreno)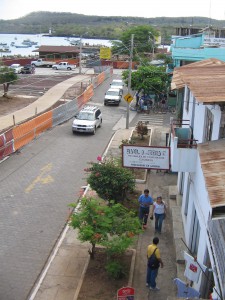 Places to stay
Hotel Albatros owner Anita (can hear her laugh miles away), with nice balcony overlooking the harbour, double room with bath, 5 USD per person. Could be noisy because ceilings are missing. Room 7 is the best, then the ballroom number 8. We could also use the kitchen (not too clean). I think the price will go up because they were installing tv and hot water at the time.
tel 05 520 264, email yonjito@hotmail.com
Next door San Fransisco also looked good, 6 USD per person.
Doña Pilo, same street as the hospital, 10 USD per person. With kitchen and hot water.
Place to eat and shopping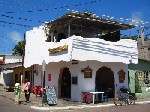 Restaurant Pizzaria Bamboo, Good lunch and dinner, includes soup for 2 USD. Also nice half liter jugos for 1 USD. From Hotel Albatros and San Francisco turn left, first street left, 1 block on the corner.
Supermarket Dos Hermanos, biggest supermarket. If you stay longer on San Christóbal its cheaper and more enviroment friendly to buy the 5 gallon waterbottle, 3 USD + 6 USD deposit.  It should also be possible to get the big bottle for 2 USD, maybe ask at GalaKiwi tours.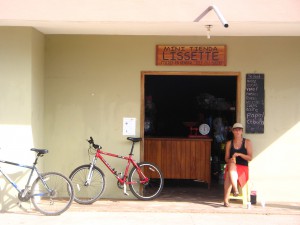 TOURS
Biking at the highlands.
The extreme fit ones can start biking from town to Lago El Junco. But it´s a bit boring ride up, so for 10 USD you get a taxi to El Junco with the bikes. Start early, so less change of mist at El Junco and it can become also very hot. Less fit ones start the downhill ride back to Puerto Baquerizo Moreno. Others can ride downhill the other side to Cerro Colorado to visit the Giant Tortoise Reserve. Puerto Chino cannot be reached by bike, so or you need to take the bike on your back on a rocky path, or take a lock with you so you can lock your bikes, or go back and start biking uphill, a nice exercise! You can on the way back also go to La Soledad,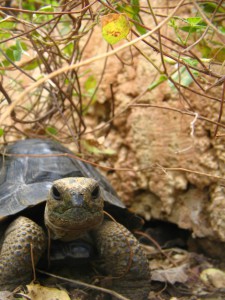 a road that goes through some finca area and at the end you have a nice lookout point. Saterday and Sunday the restaurant at the lookout point is open. If you feel still fit enough you can visit La Loberia, a nice beach at sunrise or sunset, as well.
There are three places to rent bikes. Chalo tours 10 USD per bike per day. When we were there the tires were flat. Galakikwi tours has for sure the best bikes of the Galápagos, but is a bit reluctant to rent out because they also use them for tours. Be nice and look after the bikes and they will rent them out for 10 USD per bike per day. La cucaracha (the cockroach) has a shop next to San Francisco hotel, has also bikes 7 USD per bike per day. Total costs for the day 30 USD for two people.
Diving/Snorkeling Leon Dormido (Kicker rock)-Isla Lobos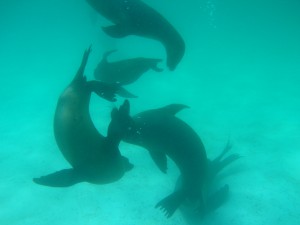 Their are a couple of diving shops in town, look which looks best to you. We went diving with Galakikwi tours 100 USD for two dives. Snorkeling was 35 USD. Equipment was very new and good.
First they took us to Isla Lobos where you can snorkel with sealions, this was one of our best experiences in the whole Galápagos trip. They are so playfull! You are not allowed to touch them but if you are lucky and they like you they will hug you. After this you have two dives at Leon Dormido where we saw Galápagos and white tip sharks, spotted eagle ray, a turtle and of course sealions. If you look up you will see Nazca boobies. On the way back you go for lunch to Isla Lobos again were you can snorkel again with the sealions. On the boattrip you will also see blue footed boobies and fregat birds.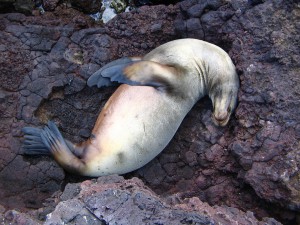 Snorkeling Las Tijeretas/ Visiting the Centro de Interpretación
Rent snorkeling gear in one of the shops, at Galakikwi tours it´s 3 for mask and snorkel, 3 for fins. Walk to the Centro de Interpretación take a look at the exhibitions, we think that this is the newest and best of all 3 islands. After that follow the Frigatebird trail to some lookout points and after that to Las Tijeretas. Here you have clear water where you can snorkel. We saw a stone scorpion fish, a balloon fish, more fish, fregat birds, blue footed booby and off course sealions. After Las Tijeretas you can visit the Darwin statue, see an old canon used in the seventies. Total costs 12 USD for two people
Visiting Punta Pitt
The main reason to visit Punta Pitt is to see the red footed booby. We tried to get a group of people together but we didn't succeed. Maybe you have more luck, here are some tips. A boot costs 250 USD to Punta Pitt. If you organise it in a shop it´s 300 because the commision is 50 for the shop. For this side you need a guide, which costs 70 USD. Keep asking around and you meet people who knows people to get the best deal.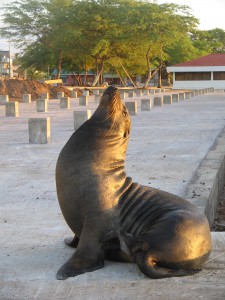 Strolling the boulevard
At sunset all the sealions come to the beaches to sleep. Playa Oro has the biggest population and its nice to see how the sealions behave in the dormitory. Some snore, some are playing, some are fighting, some are already asleep. You also have a big chance to see the yellow crowned night heron (bird) walking the beaches.
Traveling to Santa Cruz
At time of writing there is only one company which has a fibre to Santa Cruz, not the most confortable way of traveling. We went to Santa Cruz on a free lift so we don't know the time it leaves. Price is 30 USD one way but sometimes it´s possible to get a returnticket for 50 USD.
SANTA CRUZ (Puerto Ayora)
Places to stay
We stayed in Hotel España/Hotel Gardner (owner has 2 hotel with same courtyard). First is cheaper 20 USD for a double, last 25 USD but more luxury. Both can use the kitchen. We heard hotel Darwin is 10 USD for a double but check more rooms they differ greatly.
Places to eat and shopping
Next to where the boats of San Christóbal and Isabela arrive is a supermarkt. It has the most products but sometimes the other small shops are cheaper. Next to Hotel España/Gardner you can get the 5 gallon bottle of water for 2 USD.
Cheapest places to eat are in a street parallel to the boulevard.
TOURS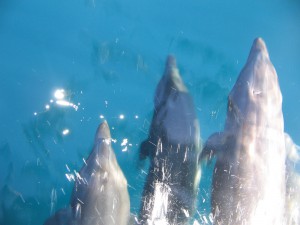 Bartolome and North Seymour
We went on two daytrips, one to Bartolomé and one to North Seymour. They were too expensive 80 USD and 65 USD but we still didn't want to have missed it. On North Seymour we saw lots of fregatbirds and blue footed boobies from real close up, sealions, nice red crabs and 1 (yes ONE) land iguana.
On the way to Bartolomé we saw 10 dolphins swimming with our boat for about 20 minutes. Our guide said that this was exceptional. You don't go to Bartolomé to see the animals but it has a very nice view on the different volcano landscapes. With the snorkeling we saw sealions and pinguins and on the beach oystercatchers and lava gulls.
Diving at Gordon Rock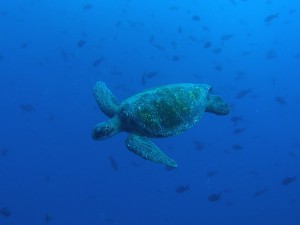 We went diving with scuba iguana at Gordon Rock for 125 USD for 2 dives. It's a difficult dive site because of the current. You go down quickly and the current takes you from 17 meters to 22 meters to 17 meters again in a few seconds (all divecomputers start peeping). But what you see is breathtaking, hammerhats sharks, turtles, white tip sharks, rays. You need good instructors on this dive, and ours were good. We heard not-that-great stories about others.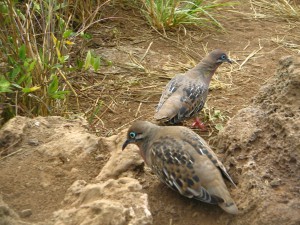 Highland tour
Touroperators offer them for 20 to 30 USD, but this can easily be done on yourself. We did it for 4 USD per person. We also heard that people got a taxi and the taxidriver showed them the Highlands for 25 USD.
Start early in the morning, take food and enough drinking water with you. Take a taxi to the bus terminal 1USD for the taxi. Take a bus to the airport (they go from about 7 till 9) for 1.80 USD. Get out at Los Gemelos. With taking the bus you avoid the control, we heard stories of tourist in taxis that got send back because they didn't have a guide. We walked to the other part of the big crater and sat there for a while. We saw Galápagos doves here. Maybe you can see how some tours do Los Gemelos: they get out of the bus, take a picture and hop on the bus again (5 minutes).
From Los Gemelos, walk back to Santa Rosa or take a taxi to El Chato 5 USD. Walking will take you about an hour.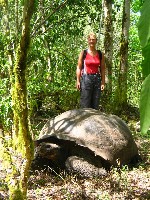 Walk to the school. Standing in front of the school, go right, left and you will see a road and a sign saying something about constructing the road to El Chato. Take this road for about 3 km, about 45 minutes downhill. Then you reach a sort of roundabout with the sign for Guy, the Israelian who got lost. Go right and walk for 20 minutes. When the path becomes unclear that's the place where we saw our first tortoise. Walk along the fence untill you see a sort of pond. There we saw a lot of tortoises.
Walk back to Santa Rosa and take a pickup truck from the control point to El Tunel 3 km outside Puerto Ayora, 1 USD per person. Its next to the road. There are more tunnels but you have to pay for them. Visit the lava tunnel and walk back or take a pickuptruck back 0.50 USD per person.
Other tours
You can visit the Darwin Center, where you can see diferent tortoises and land iguanas, Las Grietas a little canyon with not salt and not fresh water, and Tortuga bay. For all these places go early in the morning and you will see most animals.
Traveling to Isabela and San Christóbal
Tickets cost normally 30 USD, but others managed to get a return ticket with open returndate for 50 USD. Some tourist managed to buy the tickets on the boat for 25 USD directly with the captain but we were not that lucky. The boats leave at 1:45 -2:00 to Isabela and San Christóbal. Rides are not that nice, bumpy and smell of gasoline.
ISABELA (Puerta Villamil)
Places to stay
We stayed at Hostal Flamengos of the Gil Tupiza family, 10 USD per person. Rooms have (too) hot showers, television and, very nice, a fridge. You can cook in their kitchen. While we stayed there the other rooms were occupied by volunteers so calling in advance might be wise. Tel 05 2529143 ; cel 09 1385143 or 09 3651529. It nice located near a lagoon were you can always find at least 1 flaminco because it cannot fly anymore.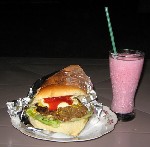 Places to eat and shopping
Restaurant El Toque del Sabor has nice lunches and dinners for 2.50-3.00 USD with vegetables! Next door you can get a nice big hamburger for 1.50 and a shake for 1.00 USD.
Panaderia El Savavida (close to Discoteque Millenium) has very nice bread and the owner has cheap tours up the volcano.
The big 5 gallon bottle of water you can get at the shop after the Discoteque Millenium for 1.50 USD and they bring it on a bike or scooter to your room!
TOURS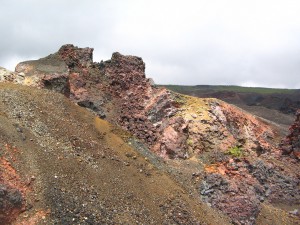 Volcan Sierra Negro
You can arrange tours via Hotel San Vicente but if you have a group you can organize it yourself. The owner of panaderia Salvavida (close to Discoteque Millenium) got us on a tour for 20 USD, normally 30 USD. This includes a pickup up to the horses, 1,5 hour of horse riding, 2 hours walking to volcan El Chico, 1,5 hour on the horse back and the pickup to town. But you need a lot of people, We got 16 people together.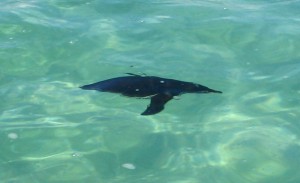 Las Tintoreras
Just outside the harbour you can take a watertaxi for 10 USD per person for a 2 hour tour. We thought that was a bit expensive but we didn't get it any cheaper. Go in the late afternoon, like 4 pm so the pinguins are there. Here you will see rays, wite tip sharks in a small river, turtles, pinguins and of course sealions. Since a month it's not allowed to snorkel here anymore!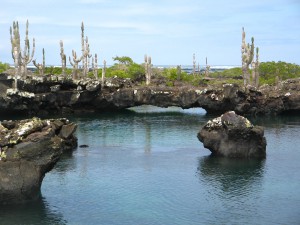 Los Tuneles
Get a group of 8 people together for a boat. The price of the boat is 200 USD, so that makes the price 25 USD per person. Los Tuneles are lava tunnels in the water and there  is a kind of turtle highway, every 5 minutes we saw a big turtle. Also a lot of blue footed boobies. Also you can snorkel in the lava tunnels also a nice experience.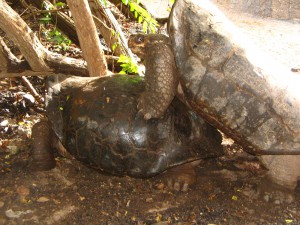 Centro de Crianza
In May its mating time for the tortoises. Go early in the morning at 8:00 and you see the males climbing on top of the females. Also on the way you will see flamingos.
Other tours
Go snorkeling early in the morning at the Sendero de los Conchas near the harbour (we saw a big turtle). Tours we didn't do were the Wall of tears and the cementry.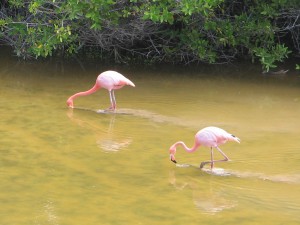 Travelling to Santa Cruz
The fibra leaves every day at 6:00 am. See above about ticket prices.
Pictures
You can see all our pictures in our photoalbum of the Galápagos, there is also a shorter version, the best of Galápagos (and Ecuador).
If this information was helpfull to you please leave a comment at our feedback page. Have a great time at the Galápagos!
Bas and Eelco