Machu Picchu is one of the highlights of Peru and one of the most expensive. If you look in guidebooks and go to the tourist office in Cuzco they will tell you that there are only two ways of getting to Machu Piccu, by train, the cheapest option 44 USD return, or hiking the Inca trail or other hikes offered by the tour agencies, which all are very expensive.
By looking on the thorntree of LP we found another way, taking busses to Santa Maria, Santa Teresa and Hidroelectrico and walking the last 10 km to Aguas Calientes. This will cost about 8 USD. And because we didn't wanted to return the way we came we walked from Aguas Calientes to Km 82 for free. from there you can take a bus (1 SOL = 33 USDcent) to Ollantaytambo or decide to walk the last kilometers.
This trip took us 5 days and we managed our daybudget of 36 USD for 2 persons, including the entrance ticket Machu Picchu (which is now 118 Soles pp).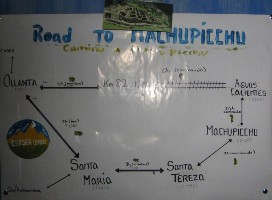 References
For the bus route Santa Maria, Santa Teresa, Hidroelectrico, Aguas Calientes we used information from Ruska from the Thorntree. He wrote an article called 'Cusco to Machu Picchu in 8 USD'.
For the hiking route Aguas Calientes, km 82, Ollantaytambo we used information from Micah Allan who wrote a story about walking to Aguas Calientes.
Latest information we got in Ollantaytambo in the Chaska Waski hostel. We planned to walk to Aguas Calientes and bus back to Cuzco. They told us that it is not possible anymore because of guards at km 88 and km 104. They will send you back because you are entering the park. Walking out of the park is no problem. You can also take a look at our pictures in the Macchu Pichu Tour fotoalbum
Costs
We first went to Ollantaytambo to visit the ruins there. You can go directly to from Cuzco to Santa Maria and thus saving 4 SOL. Prices here are per person. 1 SOL is 0.33 USD or 0.25 EUR.
Transport

Bus Cuzco – Urubamba 

3 SOL

Minibus Urubamba – Ollantaytambo


(they try 2 SOL but look what locals pay)

1 SOL

Bus Ollantaytambo (Cuzco) – Santa Maria with buscompany Ampay 

15 SOL

Minibus Santa Maria – Santa Teresa

6 SOL

Truck Santa Teresa – Hidroelectrico

4 SOL

Bus Km 82 – Ollantaytambo or

1 SOL

Bus Km 82 – Urubamba or

2 SOL

Bus Km 82 – Cuzco

10 SOL
Accomodation (double/matrimonial)

| | |
| --- | --- |
| Ollantaytambo Hostal Chaska Wasi | 30 SOL |
| Santa Maria Hostal Choqekirao | 10 SOL |
| Aguas Calientes Tourist House | 30 SOL |
The alternative route to Machu Picchu
Going via Santa Maria, Santa Teresa, Hidroelctrico, Aguas Calientes and Maccu Pichu
To Santa Maria
Buses to Quillabamba, which pass through Santa Maria, leaves from Santiago de Pess terminal in Cuzco, at around 08:00, 13:00, 19:00-21:00. The ride takes 6-8 hours. There are several companies around, some with better buses, some with not so, and the prices vary as well.
If you first go to Ollantaytambo, make sure you buy your ticket in Cuzco or Urubamba at for example buscompany Ampay and tell them that you will get on at Ollantaytambo. This way you have a seat. You can take the risk of not having a seat and buy the ticket on the bus. This way it's cheaper 10 SOL, but it can be a long ride if you have to stand…. It arrives Ollantaytambo at 9:00 9:30 but it won't leave before the driver had his breakfast (around 10:00).
We got stuck at Santa Maria because of heavy rain and hail and therefore landslides. A nice hostel was Choqekirao (suprisingly clean and good beds for the price).
The father of the hostal owner is the driver of the 3:00 AM bus to Santa Teresa so they will wake you up and make sure you get on the bus.
Santa Teresa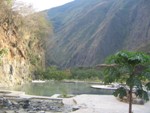 Santa Teresa is a nice village with quite a few Alojamientos. There are excellent Thermals 40 minutes walk from town, which cost 5 soles (much betters then the ones at Aguas Calientes!). There can be a lot of small biting flies, so take some bugspray with you.
Santa Teresa is the ending point of the Salkantai trek, so from here the continuation is the same as for the trek.
Hidroelectrico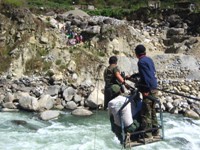 From Santa Teresa you have to go to the football field and from there to the river. Here you cross the river by hand cable car. At the other side you walk to the road. From here trucks to Hidroelectrico leave regularly, starting early morning till about 15:00. The ride costs 4 soles and takes about 15 minutes. It is possible to walk the way, about 2 hours.


Aguas Calientes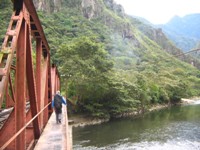 The truck stops at the railwaytrack. From here it's 10 km flat walking. Walk along the track, you see escape routes. These will take you to the upper railway track to Aguas Calientes. You have to sign your name at a small building and then you can start walking. The walking is not difficult but walking on the rail you have to take smaller steps than you used to so the walking speed is slower than normal (about 4 km/h). If you don't want to walk, the train leaves daily at 15:00 and costs 8 USD(!). The railroad actually goes around Machu Picchu, look at the mountain to your right as you walk. After you've seen Machu Piccu you come to the place where they park the trains. From here you can take the road, or continue on the rail track. Cheap accomodation is easy to find, cheap good food can be found in the market.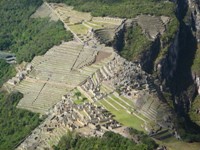 Machu Picchu
The next morning you can walk up, this will take about 1 hour to 1.5 hours depending on your condition and acclimatisation. The gates open at 6 am. Walk from town via the same road the busses take to maccu pichu. You walk past the parking lot of the busses, cross a bridge and after the sign to the museum (don't take that path) look for a path up. Probably you're not the only one going up early in the morning, so follow the other flashlights. It's a clear path no trouble following it after you found it. Not enough walking? Walk up to Huayna Piccu (gates open at 7 am) and after that to the Temple of the Moon(caves). After a nice day of walking (up) you can walk back to Aguas Calientes.
The way back from Machu Picchu
Via Aguas Calientes (Km110), Km104, Km88, Km82, Ollantaytambo, Cuzco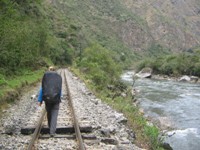 Next day you start walking along the railwaytrack. Start early, it will be a long day. First the path next to the railway track is a nice path but after a couple of km, after the helicopter landing place you have to walk on the track.
Just look around you and you will see Inca terrases and ruins. You pass another hidroelectrico and at km104 there will be "Macchu Pichu police" This is the begin point of the 2 day Inca trail. We had no problem and could continue our walk.
Around Km96-94 you will find a kind of trainstation where you can shelter in case of rain and or have lunch.
Around Km90 start looking for Inca trails, the main one will be on the left side.
Km88 is another "Macchu Pichu police" point. On the other side you will see a lot of Inca ruins but you're not allowed to cross the bridge unless you arranged some tickets in Cuzco.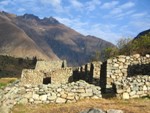 At Km85 and a few km further you will find some ruins not on the map, Qanabamba and Salapunku. Around here there are good camping places.
At Km82 there are a lot of empty tourist busses going back to Ollantaytambo, Cuzco after delivering the Inca-trail people.
Km90 till Km82 is the nicest part from the track. After that, you can continue walking, all the way to Ollantaytambo, but for 1 SOL pp we took a bus. Also good to know, if you want to walk it in 1 long day and at 14:00 there will be a bus to Ollantaytambo, so if you want to catch this one start early, and expect to walk 4km/h (sounds easy, but with campinggear and walking on the traintracks, it ain't easy!).
Have fun!
Bas and Eelco