Lovely hostels in Cuenca and Quilotoa Loop
In Cuenca we met Luis at the busstation where he was promoting his hostel. He explaned how to get there by bus. It's not so easy to find because there is no sign of a hostel, only a brown door w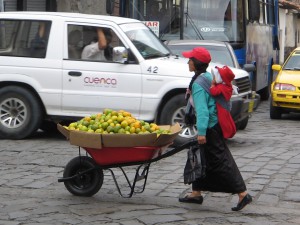 ith a sun painted above the door. Luckely for us, his wife Maria Elena was waiting for us. It's a lovely family run hostel where you can use the kitchen. It has a bit soft beds but the big breakfast and friendliness make this a great option for 5 USD. Casa Sol, Estévez de Toral 10-33 y Gran Colombia, Tel 07 2822507.
We wanted to do the Quilotoa Loop but the Lonely Planet gave only one option in  Chuchilán, the Black Sheep. We are happy to inform you that right now there are more and more affordable hostels, like the Mama Hilda Hostel or the Eco Hostel.