Peru was for us the country where every city and village had its own food. The first tip is go in every town to the tourist information and get the yellow leaflet and look for the typical food, aks for restaurants who have those typical dishes on the menu. But also hostel tips and more general information can be found in this article. The tips will be generally from North to South, we way most people travel.
Internet
Coming from Equador and going to Bolivia (or the other way around) do most of you internet stuff in Peru, cheap and fast internet.
Public transport North Peru
Coming from Ecuador we found out that the bus system in Peru was slightly different than we were used to. Not that many buses, most of the time 1 and no day busses only night busses. And maybe because there were elections but all the busses were full and had to wait 2 days. So better safe than sorry, in north Peru make reservations for bustickets as soon as possible. (Piura, Chiclayo, Chachapoyas area). If you want to take the public transport to Kuelap (4:00 AM) also reservation is needed.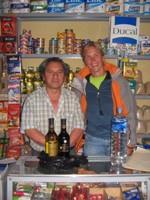 Caraz
If you want to go hiking in the Huaraz area think of staying in Caraz, a more quiet village than Huaraz. A nice 2 day walk you can do on your own is going to Laguna Parón. You can buy a hike map at Pony Express. The guy is very friendly and helpfull.
There are two hostels, Hotel Alpamayo is a bit out of town (10 minutes walk from main square), but for 30 soles a double you get a good bed, good shower and you can use the kitchen. The other is right in the center, Hotel Oasis, 40 soles a double, bed is a foamy one but the people are very nice and make up for it. You can also use the kitchen and the son of the owners wants to be a cook so maybe you can learn him something. If you are staying in Hotel Alpamayo, the shop at the small plaza is a good one to get your bread in the morning. Also the owners are very honest and friendly.
The internet at the main plaza is recommended.
Huancayo
At the corner of the main plaza, plaza de la Constitucion there is a good restaurant, Braza a la Leña. Get your desert outside, Ponche, milkrice with whipped eggwite and cinnamon, for 1 sol. Another good desert is around the corner, steamed bread with marmelade for 50 solcent. It's a kind of bapou but then sweet.
Ayacucho
A very nice town to stay a couple of days. Try the puca picante, meat with peanut sauce.
Not very far away is Quinua. In this town every house has a house, some bulls or a church on top of their houses. A house without a house on top is no house. If you look at the church, you will see small churches on the roof!
Lima
We tried a recommendation given by the hostel owner in Trujillo because we would be arriving late in Lima. Well, Hostel Safe in Lima doesn't exist anymore!
Huacachina
Hostel Rocha is a good option if you have a room in the colour part of the building. We had the room looking on the street and that was a very good option, hot shower, good bed. Also you can use the kitchen if you ask nicely.
Arequipa
Eating typical Peruvian food can be done in Restaurant Sol de Mayo. A bit upperclass restaurant but still affordable, 12 USD for a lunch.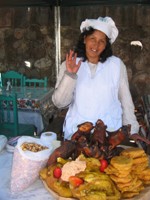 Cuzco
Just up the road of Hotel Los Niños is Hostel Luz Alba, 40 sol for a double with own bathroom and you can use the kitchen.
Had enough of the fried chicken, papas fritas and pizzas? In the San Blas area is a real Indian restaurant Maikhana Namaskar, Carmen Alto N133, run by an Indian couple. Very Nice!
Every second Sunday of the month there is a Festival de comidas tipicas de barrio Santa Ana. Nice cheap local food and the money they make goes to the poor people of barrio Santa Ana. You get there if you walk up the small street from Hotel Los Niños. See the fotos of the food here.
You can find a nice FREE museum if you cross the street diagonally from the tourist office. You find the museum in the bank.
Machu Picchu
Don't want to spend 44 USD on the train or do the inca trail. Here is an article of how to get there by bus and walking for 8 USD. Also a description if you want to walk from Aguas Calientes to Ollantaytambo.
Puno
Cheap hostel good bed and hot shower is Hoel Flores 25 sol for a double.
Want to sleep on the floating islands (Los Uros)? Most tours offer one night on Amantaní but you can actually sleep on the tortora. A day going fishing, cutting tortora, food and sleeping costs 10 USD per person. Send a email to amanacer.lujamo@gmail.com, or go to the All Way travel agency (mentioned in LP, direction: puno jr. tacna 243, close to the mercado central) and ask for Ivan.
Going to Copacabana in Bolivia? Do all your internet work in Puno. Also get USD out of the ATM. In Copacabana is NO ATM. You can get a cash advance on your creditcard for the nice 5% fee.