Last Thursday we met with the Tres Hombres in Amsterdam. And with that, an end to my trans-Atlantic round trip this summer with the Tres Hombres. A journey that lasted almost 7 months, more than a month longer than originally planned. The various delays in ports and even a hurricane threat, however, have not been able to stop. Although there is a lot of people for various reasons (planned or unplanned) are moving away from the original crew, who seven months ago have only three opstapten the whole trip completed. The last stage was not large, stage. Le Havre to IJmuiden is only 250 miles, but it took almost a week to that.
Photos and videos
Click here for the photos and videos from Le Havre to Amsterdam
Tricky English Channel
This last stage was the wind not not really beneficial to us. In fact, he came exactly from there where we wanted to go; North-East. And then you have with the Tres Hombres a thingy, because it is a fantastic ship, but really sharp to the wind sail it may not come through, the channel was therefore also the trickiest. Wind and flow against caused endless lagadapati without much progress. It appeared on the computer screen or the "Maple Leaf" of the Canadian flag to the signs were. Strong currents in the channel is that you, depending on the tide, with it or against. As long as we had the current was still to do, but with power against the wind was often too weak to really move forward. When the Maple Leaf fell the wind was almost completely gone. Still some progress to have is launched as a last resort the dinghy and outboard motor as this has served and pushed us so direction Boulogne Sur Mer. There the flow turned again to us in so that there had to be anchored, otherwise we would again fall back just as hard.
Basket full of mackerel of two generous fishing
Soon after we were anchored there came two men in a small boat to us asking if we wanted to fish. Of course we want to fish! But we forgot to ask how much it had to go costs. But without further questions they threw our tub of mackerel and set off again. We got just twenty-five jacks for nothing! What a party, what a generosity, thanks fishermen from Boulogne Sur Mer!
Floating towards the end of the channel
In the middle of the night we got some wind and entered the flow again in the right direction and could sail so slowly over Calais. Very exciting, because by the hard flow and very moderate wind was the boat total do not send. Drives you just go with the flow, beginning again in the right direction, but in fact are you rudderless. But finally we arrived in the North Sea.
Beautiful sailing weather on the North Sea
On the North Sea we had beautiful weather, and was the wind becoming more favorable for us. So beneficial even that we had to iron out sailing, because we went too hard! We would then far too early in IJmuiden arriving for the appointment with the sled/pusher. Of course then the wind again almost fell away so quickly had to sail again. And so will keep you always busy with sailing, always something to do!
Through the locks from IJmuiden
Just before the port of IJmuiden, we were associated with the tug of a befriended captain and we were through the locks of the North Sea Canal in IJmuiden. And what a fuss there than at you. After months of not having seen much more than sea and sky come there are a lot of impressions at you. Planes, cars, boats, wind mills and industry. All move, crawling with together and makes noise. Very overwhelming after the many months of rest we've had.
W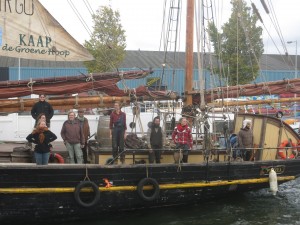 hen the locks were already waiting for me my parents and aunt and stood along the North Sea Canal, at the Hempont bass with two neighbors to wave to us. And later, at the dock at the NDSM shipyard they were already. Touching to see each other again, good to all those other people to see. So too was Captain Lammert present, nice to see him again after parting in Lunenburg, Canada.
Unloadparty and farewell
The Saturday after the arrival was the great unloadparty. All rum and cocoa went out, helped by many friends and volunteers. Except a farewell was also a nice reunion with people who I also knew my earlier trip with the Tres Hombres. It was also weird to all kinds of ' foreign ' people on ' your ' boat. It is no longer your boat immediately, and then you know that it is time to say goodbye and go home.
End of a special period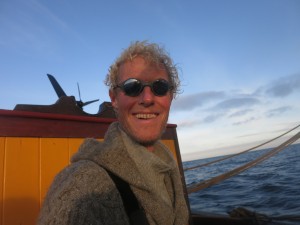 And with it came for me to an end a special period. Almost seven months was the Tres Hombres my home, a home with constantly changing people, changing weather conditions, countries and ports. It was in every way wonderful to experience. It is difficult to explain to others what it is like to be such a long time on the Tres Hombres. It is at the same time, heavy, beautiful, difficult, impressive and much, much more. I have a lot of new people, special, wonderful people that I normally wouldn't have come across. And that is also one of the most interesting aspects of this adventure. You come out of your comfort zone, out of your normal do. You see how other people live, how they look at life. And then do you have, for example during the beautiful tropical nights, plenty of time to think about this. On shore you too often just go on with work and your life, without even time and opportunity to have to even think about what you really want. And that time and opportunity you have on this trip all the more. That combination of a totally different world, different people and time to think make a trip with the Tres Hombres therefore for many people a ' life-changing experience '. Or that for me too so I leave here a little in the middle. However, it got me to thinking. Thanks all people of Tres Hombres for making possible my guys dream!
Photos and videos
Click here for the photos and videos from Le Havre to Amsterdam