Anyone who had decided to go along with the ocean crossing during the hurricane season has probably still had his doubts. There is confidence in the captain, first mate and ship, but yes, it can go wrong. It is always different than thought. When we saw the preparations was the swallow again, storm sails were tested, covers on the shutters were ordered, etc. All very well, but it made clear that this is not a routine trip would be. But in retrospect the giant fell with it, we certainly have had rough weather, but also wonderful days with Sun. Largely we had very favorable winds and only a few days against wind. Everything went fantastically well, until an accident in the port of Le Havre a damper on the festivities.
Photo ´ s and movies
Photo ´ s and movies of the crossing from Canada to Le Havre, France

Beautiful crossing during hurricane season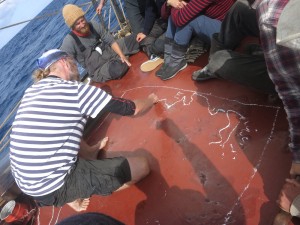 What should you expect of an ocean crossing during hurricane season. Days of pounding waves, no dry clothes in stock, heavy, tiring overstagmanouvres? That sort of thing I expected. I doubted very much if my equipment was sufficient for the next trip. But, what caught that! The first days were cold, but that turned out to be only temporary. After that, the temperature was well to do and we had also largely downwind. Captain Arjen gave us a daily update on the weather and the location of Hurricane Mathew. But he also explained how the high and low pressure areas a kind of Highway over the ocean is formed. And if you find that you can rapidly cross the ocean. And that is largely successful. Half way through the ocean we are left beaten, because the pressure areas north of layers than was first expected. But it went so fast. Sometimes 13.5 knot!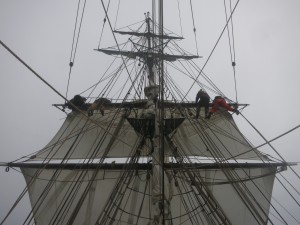 For the expected wind force 8 was at one point the reefed Topsail through which we could simply by sailing, wind with it, no problem. What a force, what was that enjoy, we flew over the ocean! We have also had heavy wait hours on end, in which we were engaged and were soaking wet by sea water, rain water and sweat. Even for a snack break in between was no time, sails, sailing ironing, and weather. And that in the rain and big waves sea water over you. After sleeping in your wet long underwear, so that it then hopefully weather was dry. But, such a guard was then miraculously weather followed by a sunny day so we could dry our stuff again.
Ireland under wind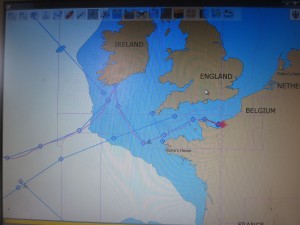 The breeze with it unfortunately kept somewhere below Ireland. In fact, the expectation was extremely bad, the next few days was East wind expected, even to wind force 7. That would be so days long from the wind in beech be tacking the channel to go to Le Havre. However, after the first overstagmanouvre under Ireland changed the weather forecast weather and we could with extremely favorable winds in the channel. The wind turned even so beneficial with us that we in one smooth motion on Le Havre koersten.
Setback in the port of Le Havre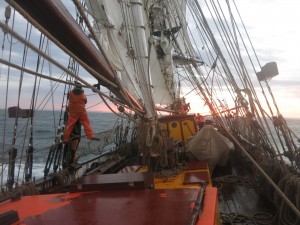 It was so enormous that we arrived too early in Le Havre. Too early for the ordered tug that would drag the US locks in. The plan was to turn the sails for the port so that you at the place. Unfortunately the wind always began to become more powerful and made we more and more speed, intermittent that failed so. We had to navigate back and forth, with the port in sight. What for my wait resulted in four heavy hours. But then we could towards tug. Unfortunately, by the time difference made a mistake. The boat was there an hour earlier than we thought. Fortunately that was discovered early, and would the tug there an hour later. But he wasn't lying! And we were there, but we can not reverse quickly! We had to so fast for anchor, but layers very near the wharf, which is now full of people. Five minutes later came the tug, but dared, or wild, not close enough so we could throw at them the line for the tow rope. And during all those hectic minutes there was one moment of inattention, combined with fatigue whereby we suddenly heard screams and a bonk, followed by a splash. Dennis, one of the trainees fell from the ra, came half on the railing and fell into the water. Widely panic of course. Fortunately, there were all kinds of boats near him quickly and they could fish out of the water. They released him quickly to the quay where he quickly with and ambulance to the hospital. But, in the meantime we still had a line to the tug. And that while we were in great uncertainty how Dennis was. His girlfriend sat in the meantime half in shock in the galley. Eventually dared the tug or close enough to come and we could transfer the line after which everything goes without problems and we went through the locks to the port of Le Havre were dragged. The atmosphere was then obviously not as we had desired. Instead of a happy arrival party there was a extremely stuffy atmosphere. A huge Downer for everyone and extremely tragic for Dennis and his girlfriend. This morning we heard that he is doing relatively well, but that he has broken his hip.
We must further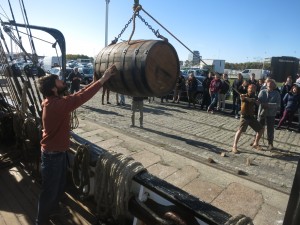 All how annoying it all is, we must further. Last night is a part of the crew have been out to dinner with the agent of the charge that we go here. Another part was left and bought wine, French bread and cheese to on the boat. And this morning we had a delicious breakfast in the Sun. In that same Sun we have done a trial discharge of one barrel of wine, so that tomorrow we will have everything ready for the final discharge and also the film crew of the owner of the cargo know how they can make their recordings.
When further?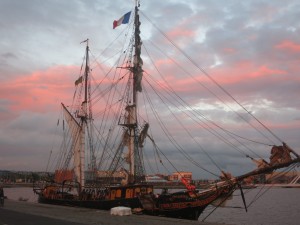 The captain would really like Wednesday direction Netherlands leave. Or that will succeed to the weather, the progress of unloading and the crew. Because Dennis and his girlfriend will not. And then we miss two experienced crew members. Should the weather go against us, then you have that desperately needed. But, that's up to the captain. Equip first of all, load and enjoy French wines, cheeses, breads etc.
Photo ´ s and movies
Photo ´ s and movies of the crossing from Canada to Le Havre, France