Last week a lot happened. We are, after two weeks anchoring, on the embankment for the museum in the village. We are therefore no longer dependent on the dinghy or the dory. And we are also a point of interest. Crowds of tourists come along, watch us and ask questions. Sometimes you are working on a char and have you not noticed that there is a group of people to you and is looking at pictures of your state. And the questions are, of course, usually the standard questions, how long is the boat, where do you come from, what is it for flag. But sometimes there is a fun conversation from, it is someone who has also sailed for example. All in all very nice to here, and we can be so a lot easier to the shops, pub and restaurant or just walking through the village or cycling in the surrounding area.
Photo ´ s
Photo ´ s of the third (and final?) week in Lunenburg, Canada

Departure of the captain and his girlfriend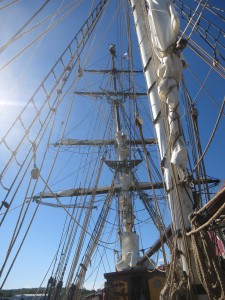 Some of the crew were already left, and others have decided not to sail further and have bought a ticket to go home to fly. But when it appeared that the captain and his girlfriend going to leave us. They are also sticking by the delay to sit with their other obligations. So we now have also a new captain. That means to us, the people who did remain, a huge change. We get a new captain, new send men and a half new crew. Fortunately, there are still some people, even people who already had bought a ticket yet remain, when it became clear that we ever could quickly go leave.
Sam also does not go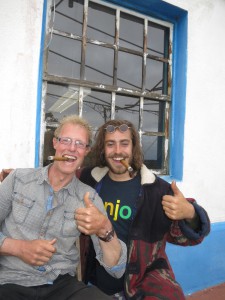 We are at the beginning of april in Den Helder started three trainees who were going to do the whole trip: Sam, Ernst and I. So we were actually the Tres Hombres of this trip. Unfortunately, Sam here decided not to proceed. Terrible bales, very sorry that we are not able to complete the three of us. We're going to miss him but hope him soon in the port of Amsterdam to see again, just like all the other people where we have done a part of the journey. As a result, we have only three persons on Board at that time in Den Helder to this tour started, two trainees and the Cook.
New captain and crew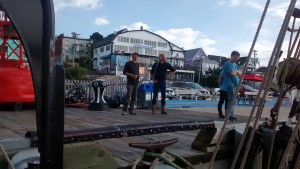 Arjen came last Tuesday, the new captain and one of the true Tres Hombres, al, together with first mate Remi. And yesterday, two new crew members arrived. Tomorrow there will be a couple and then we are back at full strength. It is always exciting to new people get on board, but so far it feels all right. It is also good to also agree under a new captain and mate. That suits different things anyway, and so you will learn other things yet again.
Abraham in Canada
The original plan was that we would arrive exactly on my 50th birthday in Amsterdam. Now I had there been somewhat taken into account that we may be rather but probably would arrive later and I have my birthday at sea or, for example, would celebrate in England. However, I had never thought I would go see Abraham in Canada. And the crew had actually made a real Abrahampop for me and bought me a gift, a real, traditional zuidwester such as the skippers here earlier. A superkado where I am very happy with it because I had already considered itself to buy. For evening there was cake and I had drinks arranged. Along with the new crew and some local residents have we had a fun party on the boat. For me so a special 50th anniversary here in Lunenburg, and fixed without bass, family friends, but with my friends of the Tres Hombres!
Boat gear up for crossing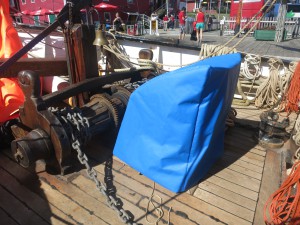 Along with the new master and chief mate in recent days we have been working on the further preparation of the boat, provisions, everything is checked and possibly replaced in terms of lines and confirmations, storm sails are tested and there are covers come for about the entrances to the sleeping areas. At violently again came there as much water over the bow as well to that came in through the shutters. Since those shutters at violently again no longer used (namely via a hatch directly in the galley, trickier but dryer) can a cover over it. That is a lot of water care in the forecastle!
Tomorrow afternoon departure
If everything runs as expected we leave tomorrow after lunch. The wind is Northern, with which we sail the port from. The intention is then to sail directly to Netherlands, but due to circumstances we would still be able to do to the Azores. However, that opportunity is small, so hopefully we are about 3 to 4 weeks in Amsterdam. The end of this special tour. See you in Amsterdam!
Photo ´ s
Photo ´ s of the third (and final?) week in Lunenburg, Canada
Monitor progress
You can follow the progress of our crossing on http://www.baseneelco.nl/tres-hombres-location/