And so we continue for almost two weeks after our arrival in Lunenburg, Canada. We are still not in the port, which seems to be very difficult to settle here. We continue thereby dependent on the dinghy, which makes it very difficult to do things and arrange. But hopefully we go today then finally the port. Meanwhile, we, of course, introduced to the village and I have together with Ernst even a three-day bike ride. But we also take slow farewell to more and more people.
Photo ´ s
Photo ´ s of the first two weeks in Lunenburg, Canada

Farewell to people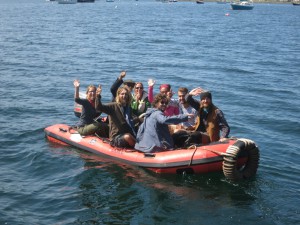 We were already behind schedule, but now we can go no further, and also do not know when we can further affect. Some crew members and trainees have obligations in terms of work, study or relationships at home. Financial consequences include here. Because despite the fact that food and drinks on board were is do you want to be the shore on, and there goes your money fast. For various reasons are so the three French crew members Gwen, Lucy and Stephen already left. But also others have already purchased tickets, or think that soon. And so it is becoming army on board. Sam, Ernst and I are the only trainees that the whole tour. And we would really like to finish that trip, the load and ship back to Netherlands. But whether that will succeed is not yet clear, because even our available time and budget is not infinite.
Lunenburg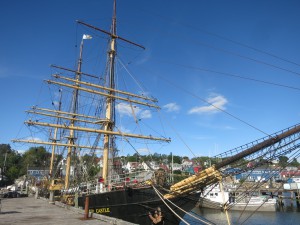 For the time being, we have made tremendous luck with the weather here, almost every day radiantly beautiful weather. Unique, if we are to believe the locals. Lunenburg is not big, but so far we just fine. The (two) bars and restaurants around are pleasant, and houses are beautiful and the people are nice. It is also home to the Picton Castle, a training ship, somewhat similar to the Tres Hombres. We must not only of their toilet and shower use, but also by cycling (though first fix) and their dory. A dory is the traditional rowing boat that used the cod fishermen were used. So are we at least not always by Lammert depending on to get to the shore. Fine for us, and for Lammert.
Three days cycling through Nova Scotia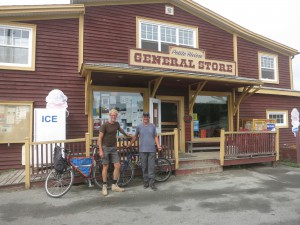 To view the country further Ernst and I decided a few days to go cycling. The first day along the coast, towards the LaHave Bakery, a large well known bakery here, and then further up the coast. It was really wonderful cycling, a fine road, wonderful weather and nice views. However, we found very little accommodation at, some campgrounds, but we had nothing with us. In Petite Rivière we ended up in a beautiful, century-old General Store. As if we were in an old Western came. There she told us that there was a hotel away. After a steep climb, we arrived at a closed, dilapidated hotel. After a beer at the neighbors are we cycled back to the General Store. On the veranda there were several local residents and we asked their or they knew something for us. Unfortunately, there was nothing, but you felt she wanted to let us actually there not so behind, but that no one wanted to take our House. A somewhat uncomfortable situation so arose. And it was all later, and we still had no place to stay. Eventually offered a woman to a tent, mattresses and blankets. And so we were half an hour later to set up a tent in the Park next to the General Stor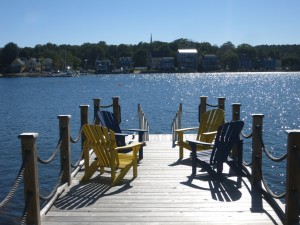 e! There was even a clean toilet. Slept fine, and the next morning had breakfast in the store and returned the stuff again including a bottle of wine as a thank you. The second day we visited a winery, we are back to the bakery and then to Bridgewater. Bridgewater is not particularly, but did have accommodation. We've spoiled ourselves with staying in a hotel, slightly above budget, but blissful shower and large, luxurious beds. Good after two days of cycling! The following day, cycled back through Mahonebay, a picturesque village, and then again back to ' home '. Had three top days to get away from the boat and be active.
Further plans?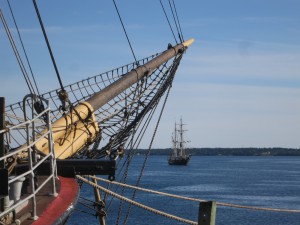 How long we stay here is still not known. Some Lunenburgers say you can leave, others say that it was not until the end of October. All in all it is a tricky situation for everyone. We hope that clarity comes to the planning, so that everyone can adjust its own schedule. Until that time we will make here but the best of, we enjoy this unique situation.
Photo ´ s