At the moment (23/11/2004) we're in San Ignacio, Belize, next to the border of Guatemala. In contrary to most other travellers, we won't go from here straight to Tikal, Guatemala. We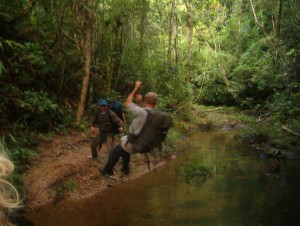 go back to the coast of Belize, to continue southwards, via Placencia and Punta Gorda and by boat to Livingstone in Guatemala. We read about a hostel in the jungle over there. You can only reach it by boat. Except a
beautifull, stunning setting, they also give Spanish courses. Sounds good, learning Spanish, canoeing the reiver etc. But that is all to come….
Have a look at the pictures: go to the menu item 'Fotoalbum'  on the left, and you'll see the pictures by Country and City. Enjoy!