Although we had wind took it longer than the captain had expected. The wind was less strongly than hoped and was also not quite ideal for our final goal, Grenada. But, we're there, after three fairly relaxed weeks sailing so there was plenty of time for maintenance on the ship, read, play guitar, chat, navigating and Suns.
Bas three days seasick
Although sailing relaxed there is no guarantee that everything went without a hitch. First of all, Bas had the first three days last of rocking the boat. From her own mail to friends, a quote:
"Well I'm it out that I am no zeevrouw been seasick, 3 to 4 days and after two and half weeks, I had enough of the constant oscillation. Bread baking last twice as long as at home. First as a contortionist via a hatch the flour, then make room to get everything securely so that no water or flour, yeast by the galley. And then the dough kneading, oscillate between each kneading. I have a lot of bruises anywhere from bumping. But at night it is very good to by Moonlight at the wheel and wonderful to after 4 hours to see again and again Eelco go to sleep for three and a half hours. "
Iron deficiency at Eelco?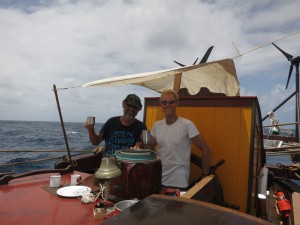 To me it went with the health also not quite right, I had a lot of thirst, drank so much, but also during sleep periods much so had to go to the bathroom, leaving little of sleep came. Additional headaches caused me the days was to count down how long we "had to". Really enjoy the sailing was not. Coincidentally we were talking with the Cook earlier about my (and her) blood type, O-negative. And according to her we need more meat, or actually iron. And on the ship mainly vegan cooked. And whether it was a placebo effect or not, but after a meat meal was my headache and thirst away, I slept in one time and I was super happy. From security I am vitamin pills (with iron) will swallow. The days afterwards it came slowly back, but not as strong, but after a lentil meal everything was back. Bizarre, but good to know, and at home but once further research.
For the wind, all rippling to the other side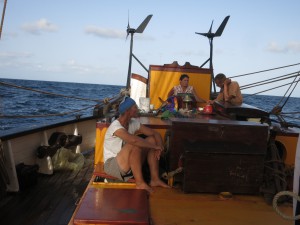 We had wind, but not always all the way from the right direction, and with the power that the captain had expected and hoped for. It was thereby occasional jibes, and rocking. Because wind sounds relaxed, but to the wind sailing makes for a more stable ship. Despite that the crossing was very quiet, no storm or rain, basically just three weeks already rippling with 5 to 9 knots to the other side.
A lot of time for other activities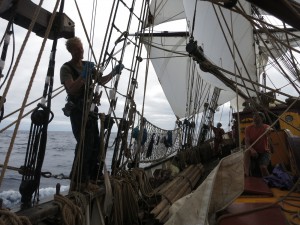 By that relative calm was there much time for other things. The ship was maintained, paint work, rigging, etc. But also learn navigate with the sextant, learn many mathematical formulas, buttons, cooking on the open day of the Cook, read, reading, etc. Getting up for the night wait remains difficult, but the often beautiful starry sky, combined with the blissful weather made that seem to be good again. The daytime napping is referred to by the heat more difficult, because there is little ventilation in the forecastle. The so-called catch wind that one of the deckhands has used an old tent helped quite a bit in order to promote air circulation, but fresh is different.
1000-mile party on 12 June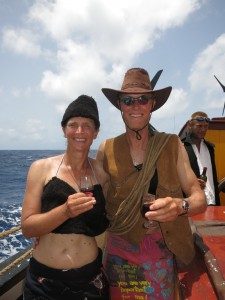 On June 12, we reached the point that it was still 1000 miles to Grenada. That came out really nice, because that fell on a Sunday, the day that everyone has to do whatever he wants. And there was already a dress up party planned, so it was Sunday sea lavender with the whole group cheered up by all the equipment that anyone of anything and everything. Bass had her hat turned into Russian bikini and I went with cowboy hat, lasso, BRA and skirt of bass when Billy The Clit dressed up. The test of the fire drill ended with a large shower where everyone from the clothes went and Lammert from the roof of the galley for a large water ballet on the deck. Even better was that my mother's birthday that day was and I at the exception was the mail, so I could congratulate my mother from the ocean. A Super day!
Learn fishing and filleting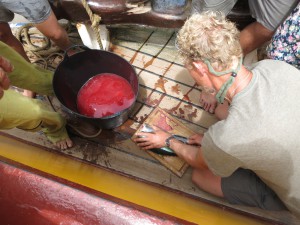 From the beginning we canned meat with it, what was once a week. There is also what tuna in prove, but we also need it for fresh "meat" of our fishing. In the beginning was difficult, but after some experimenting with that what lines and ACE wanted to bite them anyway. Beautiful tunas and other species were caught. And that must, of course, killed and filleted, and everyone will get the chance to learn it, very nice and interesting. Unfortunately, the line Is broken several times, with the highs or lows, the day before yesterday when there was a giant sword on the hook. The line has not held but we saw him jump, with the pink ACE still in its mouth. That was a good fight to get on board.
By Tres Hombres friends the port of Grenada pushed in all the way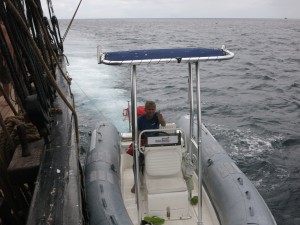 And so yesterday morning at 5 am so we reached Grenada. We had to first at anchor, because we can not all sailing in the harbour. After the usual drink to celebrate the successful tour there was time to sleep before local friends visited us with their boat to the port in pushing us. And they had cold beer with him, what a treat after three weeks without fridge! Berthing in the port went smoothly. The evening in St George was long and cozy, we went on shore in groups but eventually ended up all happen to be in the same karaoke bar where the second mate Lucy again left to hear really can sing.
Chocolate loading, dingy repair and then continue
Today is a day off. Tomorrow morning will be loaded, and the chocolate so the air conditioning for the so-called coolstorage. The outboard motor of the dingy is yet to be repaired and we're going to still visit the chocolate factory itself. The current forecast is that we could leave Thursday. We'll just have to see if that will succeed. Bass and I have a Airbnb-apartment booked for the next few days, hopefully a lot fresher than the forecastle, and certainly more privacy;-) The next stop is Santa Marta in Colombia, where we then if all goes well our friend S again. We are looking forward to it!
Pictures of the trip from La Palma to Grenada
PS: between the time of writing and publishing is planning once again changed. The chocolate is a day later loaded, departure is thereby at the earliest next Friday.
PS2: The people who brought us the port ingeholpen have also have movies made and put on YouTube, the chance to hear sing bass!