Our sailing trip from the Dominican Republic to the Azores began very prosperous. With the Dominican Republic we were tacking only once over and we could towards Azores. We could not, however, directly go there because then we would be without wind in high pressure areas. So we went first to the North. But also on that route we had regularly a windless day. At one point, however, we were just as North as the Azores, but we just kept going North. Until we even went the opposite direction, North west of the Azores.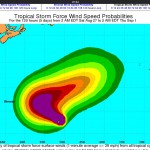 When it became apparent that we had to swerve for a tropical storm that developed into Hurricane could develop. And once we got the map of Canada in navigation room saw are the captain came with the message that the hurricane Gaston prevented us to go to the Azores. So we go to Canada! Because in order to cross directly to Europe, however, we have too little food and water on board. And so we are therefore safe to anchor in the port of Lunenburg. Safe and sound for Gaston fled with winds of 130 knots.
Photo ´ s
Photo ´ s of sailing of Boca Chica (DR) to Lunenburg, Canada

Beautiful, tour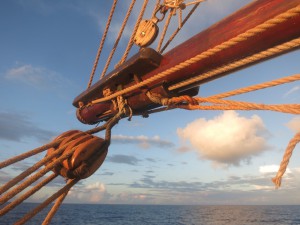 That we do not go to the Azores is unfortunate, but everyone on board understand that it is not otherwise and finds it actually also nice that we now go to Canada unexpectedly. And meanwhile, we had an incredibly beautiful, tour of nearly four weeks. The first weeks still tropical hot, sweating in the cabins, but slowly becoming fresher, to the sailing suits back on and had to the blankets and sleeping bags reappeared were extracted. The water temperature has dropped from 31 degrees to 16, a difference that good to note is when washing dishes or ' showering '. En route we have amazing starry skies seen with beautiful falling stars, by almost a minute some remained the tail visible. One time there was even a green explosion to see, so bright that anyone thought there was a photo with Flash was made. Dolphins and whales accompanied us regularly and we occasionally still caught a tuna, big enough to 16 man of an abundant seafood dinners. The sailing itself was also extremely varied, from wind silences and quietly rippling sailing again, to hard winds of 25 to 30 knots with peaks of 35 knots. In doing so, tacking was a best job in which the bow waves struck over us and no sailboard can prevent you to on your undies wet. However, the next day we had the luck that the weather was beautiful and we all could again dry.
Activities on board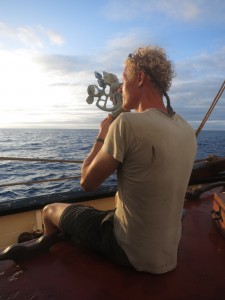 When the weather is stable there need to be done, except send, not much in terms of sailing activities. Of course, there are always household jobs like cleaning the galley and toilet. Also be drained and scrubbed the deck amount daily with salt water. But, then, there is still enough time left. Of course there is practiced in the laying of knots and splitting of ropes. Apart from fun, also useful because there break occasionally lines that need to be repaired again. But there is also taught to the position with the sextant, very fun to watch how far you of their position is that the GPS. And that turns out to be not so easy. Apart from the measurement should be done afterwards calculations with sinus and cosines in it. We have a calculator for, but used to be learned that fishermen from their head, inconceivable for us now, but very interesting to do.
Cooking and baking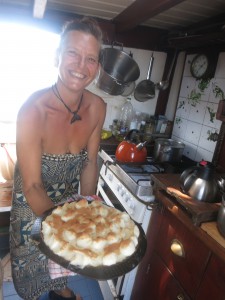 Fixed task of the night watch (0 to 4 hours unfortunately) is baking bread for breakfast. The Cook had a bread book brought along and there is quite experimented. The captain has never eaten such delicious and varied bread on a tour, from sourdough, brioche and baguette to cinnamon bread. And on Sunday the Cook gets a day off, so we cooked. That still appears to be quite a task, especially if the ship is well on the waves. And the available ingredients is in the course of this tour has become limited, so it was nice to be quite a challenge to something nice out of it. But by doing that you get the more appreciation and respect for the Cook who in that little Galley 3 meals daily for 16 people ready.
Lunenburg, Canada
And now we are at anchor off the coast of Nova Scotia, Canada. We have a view on a rocky coast with coniferous trees and picturesque houses. And it is again long pants and sweaters again, blessed! Because I was the heat was good. Sleep is now again, fine in the sleeping bag instead of baths in your own sweat. The ' seniorenkabine ' just fine, what a joy compared to the forecastle. Last night we took the whole group went in the pub, a beer after 4 weeks, blessed. Lunenburg itself is very quaint, picturesque, almost too good. All the way to the Dominican Republic Grenada and it seems a Walt Disney movie decor. And the rules are very strict, you may not even the pub in without ID, and you can also order a maximum of 1 double gintonic. Someone wanted a triple, but that was not to! Strange guys, these Canadesen, but super friendly.
Sailing without Bass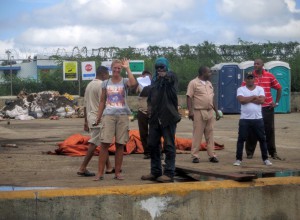 In Boca Chica names bass and I say goodbye, bass threw off of the Tres Hombres and is now on tour around the Dominican Republic. For me it was some getting used to, because every time we saw each other at the changing of the guard, just chatting, hugging and then went the one on guard and the other went to sleep. That I am missing, but am also glad I don't have to see not nauseous Bass. And if it's my rest period is, and I hear the rain Pattering on the deck and the ship feel stamping, I also don't have to worry about Bas, I can snuggle up enjoy my warm bed. Here on land we can call and email each other again, so we have contact again, and not see each other makes the homecoming will be all the more special.
Further plans
How long we stay here is still unknown. And also where we are going is still unknown. There was first talk of Netherlands to France and England that we were going to deliver goods, but whether that is still going on, and if we still go to the Azores is all unknown. My assessment is that we skip the Azores and France and at most still go to England. Because the next voyage of the Tres Hombres begins in late October, and before that the ship must be prepared again. But, we'll see, if you learn one thing here is to not to want to look too far ahead and thinking. So, until next time!
Photo ´ s
Photo ´ s of sailing of Boca Chica (DR) to Lunenburg, Canada