From Punta Gorda, Belize we arrived the 26th of november 2004 in Livingston, Guatamala. Kay is still travelling with us, she wants, just like us, take Spanish lessons in Guatemala.
Garifuna festival in Livingston
Livingston is also a Garifuna village, just like Dangriga. In Dangriga we were a bit dissapointed about their celebration of the settlementday, the 19th of november. The party in Livingston was much better!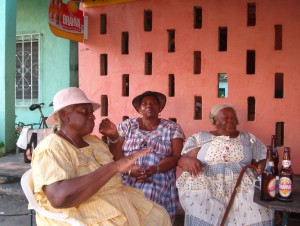 Livingston itself is a lot nicer than Dangriga, a bit Carribean, very colourfull. Big loudspeakers were in the middle of the street and they danced till deep in the night. And how: SHAKE THAT ASS! See the film and photo´s in the photoalbum of Livingston.
Rio Dulce
We left Livingston by boat over the Rio Dulce (Sweet River) to the village with the same name. For us just a one-night stop, because next day we were heading for San Pedro, at the lake of Atitlan (see the map of Guatemala voor its location). We bought a dangerous looking waterboiler, dangerous but it cooks much better than Kay´s official one. See this in the photoalbum of Rio Dulce.
Both albums can be found in the new photoalbum ´Guatemala´.
Spanish lessons
When we write this, the 2th of december 2004, we just finished our second day of Spanish lessons. We´re in San Pedro, in a beautifull surrounding. San Pedro is located on a lake, surrounded by vulcanoes. It has a very nice mountain climate. Except the climate and surroundings it´s also the cheapest place to learn Spanish. Our hostel costs us 10 euro for a week for a double room! The course costs 40 euro for 20 our a week, one-to-one lessons! Internet costs 80 eurocent an hour, and a meal 2 euro. Salsa lessons are free. You won´t be suprised that we will probably stay here for a little longer. We don´t have pictures yet of all this, but we´ve got plenty of time for that.
Hasta Luego!