Survived vulcano trekkings
From Xela we did 2 vulcano trekkings. That can always be dangerous, but that is not the reason for the name of this article. The picture next to this text already gives a small hint. But first… more about the trekkings and other activities.

Quetzaltrekkers


We did the trekkings with the Quetzaltrekkers. A non-profit organisations run by volunteers. They support the Ecuela de la Calle (=streetschool), a project for streetchildren. Do you want to know more about the Quetzaltrekkers, click on their logo.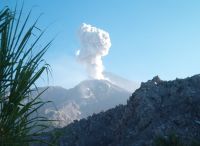 Sleeping with a view on streaming lava
With Quetzaltrekkers we did a 2day trekking to the vulcano Santiaguito gemaakt. After a jungle hike, we made camp on the edge of a dry riverbedding. From that site we had a good view on the eruptions of Santiaguito. At daytime you see smoke coming out of the volcano, but at night you can see the lava streaming out of the vulcano. Very spectaculair! Unfortunately our camera is not suitable for making pictures of the nightshow, hopefully someone else will send some of theirs. Then we´ll add them to the Santiaguito album.
Sunset and rise from the highest point of Central America, the volcano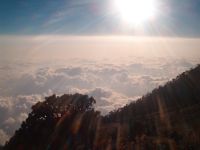 Tajumulco
Again with Quetzaltrekkers we did the trekking to the Tajumulco, with 4220 meter the highest point of Central America. See the photoalbum of  Tajumulco.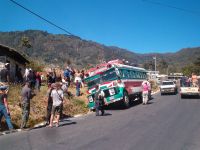 With the chickenbus off the road
The vulcanoes appeared not to be the most dangerous part of the trip. Our busdriver didn´t brake quick enough when a truck from the opposite direction didn´t give way. We didn´t crash into the truck, because our driver drove us into the ditch. Nobody was hurt, only a bench. The owner wanted 10 euro for it. Because we didn´t want more delay, we payed it and took the bench with us on top of the roof as a souvenir. See the movie in the album of Tajumulco how the bus got out!
Other activities
Except the 2 trekkings we also walked around Xela and other towns.
See the photoalbum Around Xela and the album of Xela itself.