Because we´re travelling Guatemala for quite a while, we were reaching the end of the 90 days that we were allowed to stay in Guatemala. Extending the visa is possible, but only in Guatemala City. Not a nice option for us. So we crossed the border at La Mesilla but did NOT go to Mexico, bribed an officer and got a new entry-stamp with 90 brand new days for Guatemala!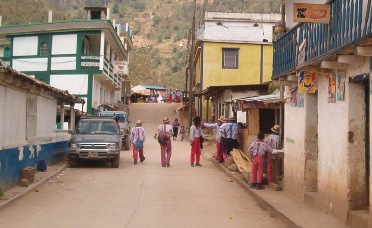 Hiking with bikers in Todos Santos
In Todos Santos we did some hikes with 2 other dutch travellers (Vincent and Roos) en an American (Greg). Greg is biking from Alaska to Argentinia, and he´s already 16 months on the road! Just like us, he has a website about his travels: http://groups.yahoo.com/group/tour-de-deuce. Vincent and Roos also have bikes, but brought them by bus. But….. they are planning to bike to Panama. And they also have a website: http://roosievinnie.waarbenjij.nu. Ofcourse we´ve got nice pictures of the hikes in the fotoalbum of  Todos Santos . But the album also contains some nice pictures of the live sheep-slaughtering on the market at the Alto Plano. Unfortunately the camera accidentaly was in the ´worst´ quality mode, so a lot of pictures are not in the quality you´re used from us.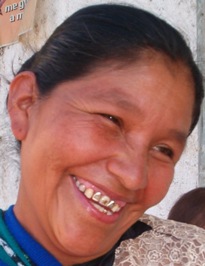 Nice teeth in Sacapulas
After our fake-border-crossing we wanted to go to Nebaj. But that was to far for one day. So we stopped in Sacapulas. Not a very special village, but a very friendly village. We sat on the street in front of the small hotel and had some nice small conversations with the local people. One of them was Maria. And she had her teeth decorated with gold. Just like a lot of other Guatemalan people. But she also had stars on/in her teeth! See the  fotoalbum of the bordercrossing and Sacapulas.
HueHue, uninteresting concrete
Huehuetenango was just a place we travelled trough. Uninteresting, even the ruines. Except for the way they were restaured: all by concrete! Today the do it more authentical, with rocks. Do you still want to see the pictures? You can do that here.
And now: Nebaj!
We´re writing this from Nebag. Again a beautifull mountain village. Next time we´ll tell you more about it.
Adios Amigos!
Bas en Eelco