Finaly we reaches one of the, if not the most importent tourist atraction of Guatemala. Antigua. And we must admit, it´s beautifull. At bit touristy, but also very tranquilo. A lot of romantic ruines, and they keep the city in style, a enourmous difference with Guatemala city. At the moment, we´re here already longer then one week, after a touching farewell from San Pedro.

Farewell of San Pedro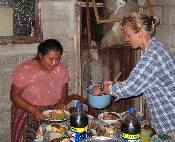 In total we´ve lived in San Pedro La Laguna for about 3 months. After building the websites we said farewell to all the nice people of this village. At the Cruz family we cooked our world famous Nasi Goreng. A big success, but not for everybody. Father Cruz didn´t like it. He preferred his tortillas! The rest enjoyed it a lot, and especially the ´vla´ dessert afterwards. Cooking on the woodfire was a bit problematic for us, but the ladies of the house helped. I sais what had to happen, and they did it. So now they now how to make vla. And they were absolutely going to make vla agian, era Muy Rico! See the last pictures in the Cruz-album and the Return to San Pedro album.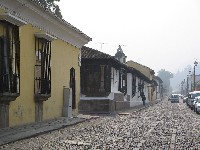 Antigua
So now we´re in Antigua. And that was a bit of a shock. All these tourists in organised tours, tourists with football shorts and hup-holland-hup t-shirts and americans with oversized sunglasses. It´s a big change, but but also nice to have al the services again. It´s all a bit more expensive then we´re used to and a lot more luxurious, but also fun! A lot of restaurants with beautifull gardens, pubs with films and footbal on TV and a lot of cultural activities like a concert in Parque Central.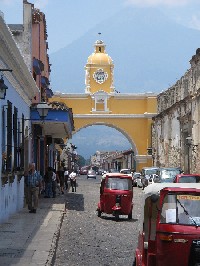 Due to the risk of earthquakes they keep the buildings low. There are only a few higher buildings that survived, like the Arco de Antigua, een arche over the street where nuns could cross the street without being seen. And the cathedral, but that one is partly rebuild in 1780-1820. Because of the low buildings Antigua does´nt feel like a city, but more like a big village. And the huge amoutn of ruines give it a very special atmosphere. You can make a virtuele walk through Antigua at Paseo Por Antigua.
As said before, there are a lot of restaurants and pubs with beautifull patios. There are also a lot of artgaleries from which the building itself is worth visitiong. A lot of houses are restaurated in the original style. They have to, because since 1979 it is a
Unesco World Heritage Site. Most houses are just living houses, and not open for visitors. Onlye the Casa Popenoe is open. Beautifull, you´ve got the feeling you´re walking through one of these housing magazines. See the pictures of  Antigua!
We´re back to work!
The hostel where we stay, El Viajero, is run by Merly. She also provides Internet service, but don´t know anything about computers. And they had a lot of problems with virusses. We offered to have a loot, but that resulted in a day-long hunt for the Nail.exe virus. It didn´t want to go! After a lot of research on the internet and downloading of about 15 anti-virus programs we solved it. For the nerds: especially the program  HijackThis of a dutch student Merijn was a great help, Good tool! After that, we had to rearrange the computer to prefend further problems, so another day was filled with computer-joy. And after that we have to teach Merly how to use it all. Because all the work we did for here, we don´t have to pay for the use of internet and for the hostel. So we´re doing well! In San Pedro we worked for free, but now we make about 100 Quetzal (= 10 euro) a day, not bat!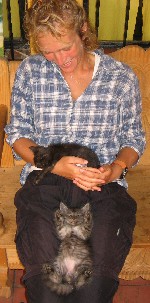 Friday the 13th, an end to cat paradise
One of the reasons that we (and especialy Bas) enjoy it here is the fact that there is a nest of young kittens here. There are 3 grown up cats, with in total 8 kittens. Every morning Bas wakes up early to play and cuddle with them. It is a true cat paradise. Or…. it was. Because at 6 o´clock they knocked on our door. One of the mother cats was dead, poisoned. Ofcourse a lot of tears with Merly. They think it has something to do with the fact that they don´t like black cats here, they bring bad luck. And then we realized that it´s friday the 13th. A coincidence or not? But anyhow, it´s a very sad day here. We found the poisened meat, and it looks like that the other cats didn´t eat from it. We hope the´re going to be all right.
Further plans
We have to leave Guatemala the 23th of this month, because then our 2nd 90-day term ends. We think about leaving Antigua nex monday, the 16th. Then first to the coast of Guatemala and then have a look at a black christ. And then finally a new country: El Salvador!
Adios amigos!
Bas en Eelco