Without problems and with a strong breeze in the back we sailed in 5 days of Grenada to Santa Marta in Colombia. The first days were like our ocean crossing, with the wind at your back. Only the wind was now a bit harder. You don't really notice it on the deck, because with the wind at your back is the breeze on the deck nil. The last piece, however, we had to change course to in Santa Marta and then wind force 7 though good to note, WOW, that is again sailing, cant ship, water over the deck, cool!
Photo ´ s
Photo ´ s of sailing from Grenada to Santa Marta
Photo ´ s of the stay in Santa Marta and Minca
Arrival the trickiest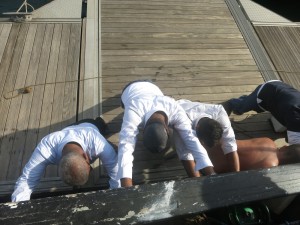 Actually there is so about the whole trip not that much to tell. It just went fine, we shot on. The arrival was still the most exciting piece of the whole trip. Now it's building in any case often an exciting piece of the trip. Often it is a unknown, sometimes we go on sailing to the inside so that's exciting. But also if you towed or pushed is that exciting, because then the captain actually stir out of your hands, we are almost powerless. We were this time by a speedboat to the port. The finest is that the boat is on the side attach to the Tres Hombres. But that wanted these men don't, for fear of damage. So they went us drag, and that does have some beads of sweat. But in the end everything went fine, a whole slew of men stood on the scaffold to help us and everything just came good. Yahooo!!!! Arrived in broiling Santa Marta!
No coffee yet by the strike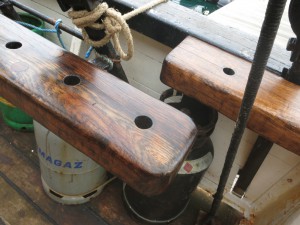 It is not so far along with the goods we want to load in the various ports. The rum and wine led to delays by the customs paperwork. The chocolate in Grenada was not finished, and here too we have a problem. There are strikes causing the coffee 800 Km away somewhere stuck in a strike. Very annoying, take the stakinen for a long time, so it would be so but can that we no longer can wait and have to leave without coffee. That would be a huge Downer. The new trainees are already on board, but instead of directly leave we must not wait. Fortunately, the positive people, so they see this but if it's already getting to know the ship and the people.
Nice and cool staying at Sander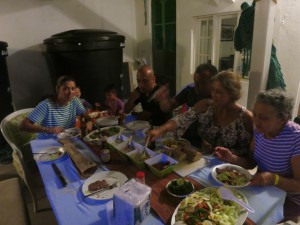 Ten years ago we met Sander in Taganga, a village away (see also Golden times in Colombia). We have kept in touch and coincidentally he lives now in Santa Marta, 5 blocks from the harbor! So we have the luxury to be allowed to stay at their. Except very cosy also a salvation, because it's very hot in Santa Marta, and then sleep on the ship is not really a fun. But in the cool room we have at Sander, with a fan, a shower next to it and so is our stay in Santa Marta a pleasure. We go almost every morning to the ship to hear what the status of e.e.a. and whether we should get started. Take turns is there still maintenance done on the ship. But, often we do not need to do anything and we can snuggle with Sander and his family on step or are we good at them at home and we do away with the BBQ with her family.
Good food in Taganga and Minca weekend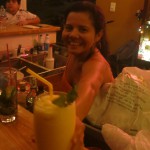 And so does Sander us already taken to the restaurant Babaganouche by a Dutch friend, Patrick, in Taganga. And we are called to Minca, a mountain village 16 Km away, with a very pleasant climate. Because there is still room was in the car we have Ernst brought Elly, so it became even cozier. We have a fantastic cocktail bar in Minca visited, with a wealth of a barmaid,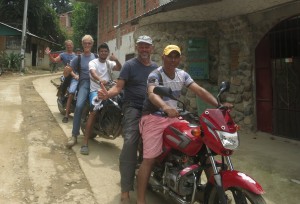 and we are on the motor to a historical coffee plantation. Hondertwintig years old, and still working as when ever conceived and built. Back we are going to walk away and we passed a beautiful waterfall. At least, it is said that he is beautiful. We have skipped the waterfall, there were so many car ´ s and vans at the beginning of the path that had to be there from the idyllic.
Blood test results
I have my blood tested, including on diabetes. Several people found my symptoms similar to diabetes symptoms. Now I was just for the trip already tested and completely by the approval back, but you never know. I'm on more testing than just on diabetes (took almost the same) and the rash is gone to doctor Carlo heijmans. He has also helped us at that distance during our 2.5 year old Latin America trip. He had some additional questions, but could mean exclude diabetes. So we're going for that matter further with peace of mind and I hope by good food and vitamin supplements to prevent complaints in the future.
Tomorrow maybe way, without coffee
Tomorrow morning, we hear during the ´ muster ´ or tomorrow we will go away, without coffee. We hope that we still wait, both for the coffee and for ourselves. We find it pleasant here at Sander. We were allowed to have to sleep on the ship than we probably had a different opinion;-) But you will see to the following message where that came from.
Photo ´ s of sailing from Grenada to Santa Marta
Photo ´ s of the stay in Santa Marta and Minca