In the pickup truck
Public transport around the lake of Atitlan is mainly done like the picture on the left: in the back of a pickup. For one Quetzal (10 eurocent) they bring you to the next village. And a whole lot of people fit in the back!
Our sunday excursion of the 11th december was to San Marcus. For 3 Q we got there. So you calculate how many villages we travelled…. Going back was not that easy, because no pickup showed up. So we walked a part of the route. Saved us 1 Q ! See the pictures here.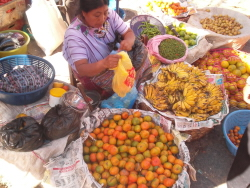 Market in San Pedro
For our daily shoppings we go to the market. On certain days this market is bigger then usual. And around christmas we you can also do your chrismas shoppings there. Bas was looking for some clothes, because it gets cold here in the evening. She found a nice sweater for 1 euro. See the pictures of the market of San Pedro.
Daily life in San Pedro
Because we are not travelling now, the adventures aren´t that big. Life is relaxed now. We go to school, do homework, cook, eat and go out a bit. See the added pictures in the existing album of San Pedro and the hostel.
Map of the lake of Atitlan
The map of Guatemala didn´t show that much details of the area we´re now, so underneath some more detials: